Nordisk Panorama Cinema Walk was a new addition to Nordisk Panorama Film Festival 2021! It took place 16-21 Sept 2021. Rearrange the films as you see fit and create your own cinematic tour of the city. Press on the images for more information, and refresh if you ever feel like starting over.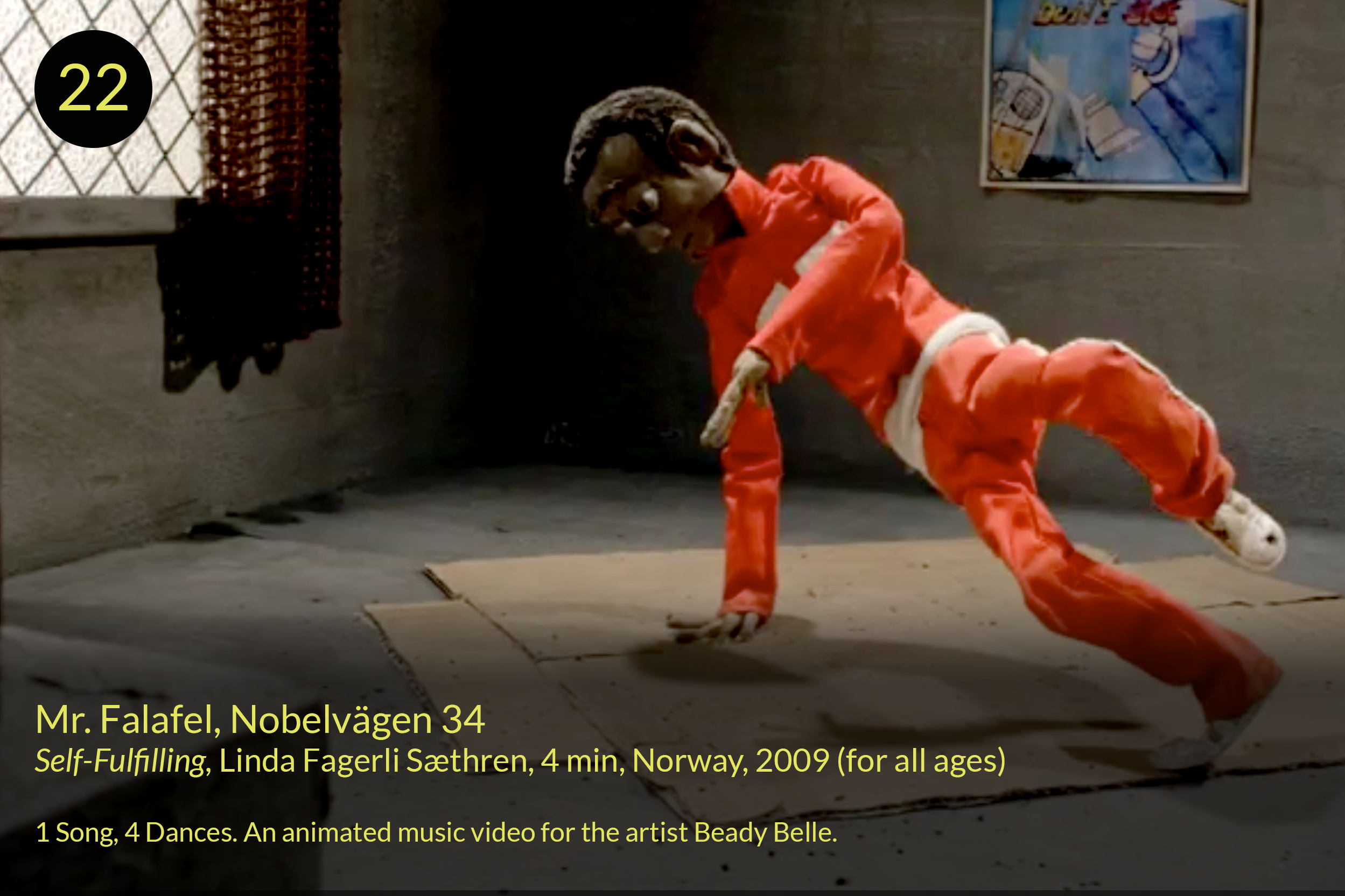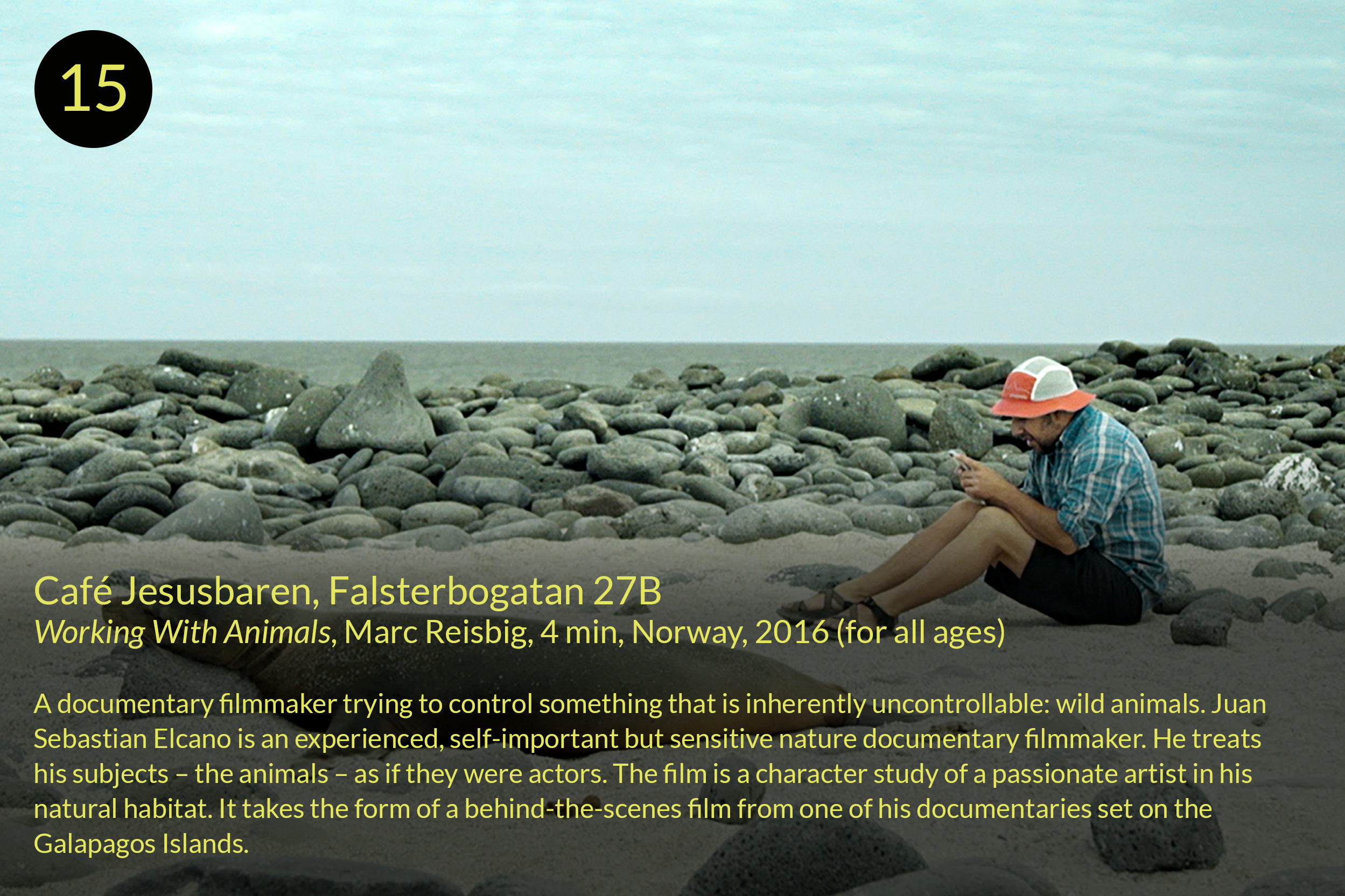 The Cinema Walk is your chance to stumble over free short film screenings all over Malmö.


On screens and walls, in shop windows and malls, we'll bring out a selection of our all-time favourites for you to enjoy. If you're a Malmö local, we can surprise you with films at your favourite museum, the grocery store around the corner or between the books at your favourite library. If you're new to Malmö, the Cinema Walk is the way to explore the city – through films in unexpected places. Find a new favourite local falafel spot or a new favourite short film while navigating through the bustling city.


The Cinema Walk is a part of Nordisk Panorama Film Festival 2021. The festival takes place in Malmö 16–21 Sept. Find the full festival programme here. Find all festival venues and locations here. Find extended info about all the films in the Cinema Walk here.
Places and Films
4.
Scandic Triangeln
, Triangeln 2 –
Las Palmas,
Johannes Nyholm
9.
Malmö Konsthall
, S:t Johannesgatan 7 –
Manifesto
, Ane Hjort Guttu
10.
Moderna Museet Courtyard
, Ola Billgrens plats 2 –
You Can't Show My Face,
Knutte Wester
11.
Mitt Möllan
, Claesgatan 8 –
A People's Radio – Ballads from a Wooded Country,
Virpi Suutari
12.
Form/Design Center
, Lilla torg 9 –
Light Snatcher,
Charlotte Airas
13.
Triangeln Mall
, Södra Förstadsgatan 41 –
Yes – People,
Gísli Darri Halldórsson
14.
ABF Malmö
, Spånehusvägen 47 –
Origin of Man,
Pjotr Sapegin
15
Café Jesusbaren
, Falsterbogatan 27B –
Working with Animals,
Marc Reisbig
16.
Kirseberg Library
, Kronetorpsgatan 1 –
Body and Soul –
Short Film Programme
17.
Limhamn Library
, Odengatan 43 –
Body and Soul –
Short Film Programme
18.
Malmö City Library
, Kung Oscars väg 11 –
Body and Soul –
Short Film Programme
19.
Malmö Ideella – Nobel 21
, Nobelvägen 21 –
Robot and the Whale,
Jonas Forsman
20.
Masten 2 Library
, Mastgränd 4 –
Body and Soul –
Short Film Programme
21.
MINC
, Anckargripsgatan 3 –
The Stroker,
Pilvi Takala
22.
Mr. Falafel
, Nobelvägen 34 –
Self-fulfilling,
Linda Fagerli Sæthren
23.
STPLN
, Stapelbäddsgatan 3 –
Still Lives,
Elli Vuorinen
24.
Tehran Livs
, Ystadsgatan 9A –
Every Day is a Fish Day,
Jens Lien
28.
Rex Pizzeria
, Nobelvägen 107 –
Deepness of the Fry
, August Niclasen,
Frank the Lobster,
Mika Purola
31.
BID Malmö
, Friisgatan 14 –
Tales from the Multiverse,
Peter Smith
,
Magnus Igland Møller & Mette Rank Tange
Watering Holes


A film festival isn't only about the films, it's also about gatherings. We have asked some favourite spots to choose some Nordic flavours for you to try.
2.
Spegeln Bio Bar & Bistro
, Stortorget 29
Alcazar Spritz
If you're feeling especially fruity, enjoy this Nordic riff on the classic Spritz in between festival screenings.
4.
Scandic Triangeln
, Triangeln 2
Berry Mojito
The flavours you know and love – presented in a new, Nordic light. We'll take two, please.
25.
Far i Hatten
, Folkets Park, Norra Parkgatan 2
Thyme 47
Head down to Folkets Park for a light and refreshing gin cocktail celebrating a Swedish staple.
26.
Grand Malmö
, Monbijougatan 17
Honey Buckthorn
This sweet number awaits you just a stone's throw away from one of our festival cinemas, Panora.
27.
Julie
, Tegelgårdsgatan 9
Swedish Wine
Round off a full day of thought-provoking cinema
with a delicious Swedish wine tasting experience.
Try three different wines for 250 SEK + introduction.
28.
Rex Pizzeria
, Nobelvägen 107
"Stor Stark"
Look no further than homely Rex for a tall, ice-cold glass of "Stor Stark" beer. Skål!
29.
Riket
, Erik Dahlbergsgatan 5
Tuborg
When in doubt, quench your thirst with Denmark's very own lager.
30.
Liket
, Stora Nygatan 36
Easy Ernie
Enjoy Liket's experimental take on the Nordic akvavit in their outdoor seating area.